Slea Head
Why this trip?
We couldn't leave Slea Head out. We just couldn't. It's too special.
Check out Ireland.com's listings of the best accommodation in Dingle
Slead Head Loop ➤ Dingle
Route Rating ➤ Moderate
Distance ➤ 55 km
Climbing ➤ 522 meters
Dingle – Ventry – Slea Head – Dunquin – Ballyferriter – Feohanagh – Dingle (55.3Km)
The Dingle Peninsula is a highlight for Irish and international visitors alike, it's a signature section of the Wild Atlantic Way and has everything from truly spectacular scenery to lively pubs and great restaurants.
Dingle is busy all year round so there are three things to bear in mind:
As always, cycle in a clockwise direction. It'll be easier to pull in to the beauty sites and you'll be going against the flow of the tour buses.
Early morning or late afternoon is the best time to cycle this route. The Slea Head section is stunning but very narrow and can be a bit hair-raising on a bike. So avoid the traffic and do it at your own pace.
Make sure your phone is fully charged. You'll need the juice for all the photos you're taking.
The real magic of this itinerary starts at 12km with stunning panoramic views across the ocean to Valentia Island to the south and An Fear Marbh and the Great Blasket Island out west.
Turning northwards around the headland to the Slea Head viewpoint and Dunquin, you come across two of the most iconic spots in the country. The drop to the ocean is steep and spectacular so it's worth taking the time to soak it all up on a clear day.
Once through Ballyferriter, you have the option of shortening the route to just over 40km by taking the Ballineanig road across the heart of the headland to back to Dingle. Otherwise, continue along the Slea Head Drive and close the loop to Dingle for a spot of live music, good food and true Kerry goodness.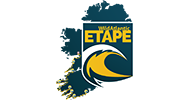 As featured on the Wild Atlantic Étape