Schull Loop ➤ West Cork
A stunning route with amazing coastlines and a few tough climbs to soften your cough!
Go to Ireland.com's listings for the best accommodation in Schull.
Hidden Gem: Schull Loop, West Cork
Route Rating ➤ Moderate
Distance ➤ 122.5 km
Climbing ➤ 1,496 meters
Schull – Goleen – Crookhaven – Mizen Head – Durrus – Sheep's Head – Goat's Path – Ballydehob - Schull
As always, this spin is a clockwise loop to keep you close to the ocean and make it easier and safer to stop for photos and regrouping.
The route heads out from Schull and winds its way through lovely Goleen and gorgeous Crookhaven, past Barley Cove and out to Mizen Head, Ireland's most southerly point. The roads are narrow and gently rolling, perfect for warming up. If the weather's good, it's worth stopping by the Mizen Head Signal Station to see Fastnet Rock.
Things start to get exciting after Mizen. There's a left turn at the 37.5km mark (it's not signposted – this is West Cork, after all) but this is when the Schull Loop starts to flaunt its Hidden Gem status and, after a gradual 4.5km climb, breaks out into 12km of pure class.
There's really nothing to do but sit back and soak it all up before rejoining the road to Durrus. Turning southwards again, there's a long, slow drag with little to no traffic and plenty of time to decide where to head for lunch. You have several options: Durrus itself, or you can head out on Sheep's Head to Ahakista at 72km or Kilcrohane at 78km, both of which are a good shout.
Beyond Kilcrohane, take a right at the church for Goat's Path – it's easy to miss so keep an eye out. There's a serious 2km climb before the road breaks out again into 19km of sheer West Cork beauty and spectacular views across Bantry Bay and the Ring of Beara.
Really, Cork is just showing off at this stage.
The final 25km heads back through lush green countryside via Ballydehob to Schull where L'Escale serves what just might be the best fish and chips in Ireland. You'll have to try it for yourself – and after a long day in the saddle, it'll be well-deserved!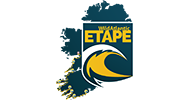 As featured on the Wild Atlantic Étape