The Three Rings of Kerry
Stunning scenery, signature climbs and great lunch and coffee stops.
Check out Ireland.com's listings for the best accommodation in Kenmare.
Top Tip
Always cycle South to North on coast roads (like we do here) so you don't have a lane of traffic between you and the ocean.
This route has two options, A and B. A is longer and more challenging than B so have a look and pick the one that suits you. If you're cycling with a group, you can split into Group A and Group B depending on experience and fitness.
Let's Cycle Ireland: The Three Rings, Kerry (Group A)
Route Rating ➤ Challenging
Distance ➤ 427 km
Climbing ➤ 5,361 meters
You'll need some decent miles in the legs but the reward is well worth the challenge.
Day 1
Kenmare – Sneem – Ballaghbeama Gap – Black Valley – Gap of Dunloe – Molls Gap (108km)
A short stage on Day 1 allows for cyclists who travel down to Kenmare first thing in the morning. Short but no less challenging than the others, this stage will wake up the legs and get the party started!
Day 2
Ring of Beara via Glengarriff and Allihies (140km)
The Ring of Beara departs Kenmare in the direction of the Caha Pass and Glengarriff. There's a bit of a slog from Glengarriff to Castletownbere on wide roads with some traffic. Castletownbere is a good spot to regroup and take a coffee break before setting off on a gem of a spin back to Kenmare on the coast road via Allihies.
Day 3
Ring of Kerry – Skellig Ring – Coomanaspig – Valentia Island – Ballaghsheen Pass – Molls Gap (179km)
Most cyclists will have cycled the Ring of Kerry but very few have even heard of the Skellig Ring which is much more beautiful. As always, cycle clockwise around the ring (or South to North) to keep the ocean directly on your left (no need to cross the road for photos/regrouping).
This stage covers Coomanaspig and the Ballaghshenn Pass – two of Ireland's classic climbs – as well as a the brilliant Skellig Chocolate Factory (a firm favourite) and a ferry crossing from Valentia Island to Reenard's Point (a nice coffee or lunch stop if you fancy). The return into Kenmare comes through Molls Gap which is a good spot to regroup before the descent into Kenmare.
Let's Cycle Ireland: The Three Rings, Kerry (Group B)
Route Rating ➤ Challenging
Distance ➤ 335 km
Climbing ➤ 4,056 meters
Less challenging than Group A's option, this route still covers the best of west Kerry – and throws a few hills into the mix!
Day 1
Kenmare – Ballaghbeama Gap – Black Valley – Gap of Dunloe – Molls Gap (89km)
This is a really nice loop which takes in some of Kerry's iconic spots including the Black Valley and the Gap of Dunloe. A beautiful route with a few climbs to keep you honest!
Day 2
Kenmare - The Caha Pass – Glengarriff – Ring of Beara via the Healy Pass (86km with the option to extend via Castletownbere and take the R571 in the direction of Eyeries. This increases the stage to 113km)
Whether you take the 86km or 113km option, this is a tough stage starting straight into the Caha Pass, a long drag out to Adrigole 45km mark and then Healy Pass. A climb with a name is never easy and the Healy Pass certainly isn't! On the upside, at least you have lunch in Helen's bar to look forward to.
Day 3
Ring of Kerry and the Skellig Ring (160km)
Kenmare to Waterville is the nicest section of the Ring of Kerry views across Kenmare Bay and St. Finian's Bay.
The Ring of Kerry dominates this area in terms of cycling but the lesser-known Skellig Ring is a real gem, a stunning coastal route with amazing views of the Skelligs. The Skellig Ring has some great food stops on the route but a coffee stop at the Skellig chocolate factory is well worth a visit. Enjoy.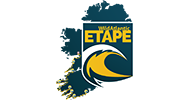 As featured on the Wild Atlantic Étape