Kilkee Loop ➤ County Clare
A truly beautiful route with stunning coastline views topped off by the magnificent Kilkee Cliffs.
Check out Ireland.com's listings for the best accommodation in Kilkee.
Kilkee Loop, County Clare
Route Rating ➤ Easy / Moderate
Distance ➤ 65 km
Climbing ➤ 549 meters
Kilkee – Kilrush – Carrigaholt – Kilbaha – Kilkee Cliffs
Clare is often overlooked by cyclists who flock to the hotspots of Kerry, West Cork and Connemara. A rookie mistake. Although not as hilly as other parts of the country, Clare deserves a moment in the spotlight, as do the majestic Kilkee Cliffs, the lesser-known cousins of the Cliffs of Moher.
As always, this route is best enjoyed heading clockwise, making it easier and safer to stop for photos and to regroup.
The first 4.4km of this route follows the main N67 road between Kilkee and Kilrush which can be busy at times with local and tourist traffic. But once the warmup is done, this Hidden Gem delves off onto small back roads where the only traffic is the occasional sheep.
A right turn at 9km marks the beginning of Loop Head on a tiny coast road with views across the Shannon estuary to Kerry and the Cliffs of Dooneen which the old fogies might recognise from the ballad by Planxty and Christy Moore. If you don't know it, you're too young.
Passing through the small village of Carrigaholt, the spin rolls on to Kilbaha at 31km and there's no better place to stop for coffee or lunch than Keating's Bar. To be fair, there aren't any other cafés or bars on the rest of the route so you have no real choice but Keating's is still a top spot.
After Keating's it's a short, stiff 5km out to Loop Head Lighthouse where you catch your first glimpse of the Kilkee Cliffs stretching northwards up the coast. If it's your first time seeing them, you'll wonder why on earth the Cliffs of Moher steal all the glory – these are just as magnificent. But that said, maybe it's best that the tourist trail hasn't come this far and you can enjoy your spin in peace.
Enjoy the rest of the trip home and soak up the beauty of Clare's coastline where there's nothing between you and the ocean and you can see all the way up to Lahinch and the Burren.
When the spin is done and dusted, the Diamond Rocks Cafe is a good spot for a beer or a bit of what you fancy.
Enjoy.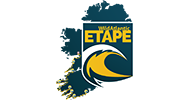 As featured on the Wild Atlantic Étape